Kum 30 nak Tuluk le ASEAN Summit tuahnak cu tuni November ni 22, kum 2021 ah online in an tuah, mah an tuahnak ah cun Myanmar ram in uknak chut tu le mipi a kan that cuahmah tu ralhraang pawl an pu Min Aung Hlaing kai ve ding in Tuluk nih a rak timhtuah ngai nain ram cheukhat nih an duh lo ruangah aa tel kho lo.
Tuni ah an tuahmi China-ASEAN summit ah hin Tuluk ram president simi XI Jin Ping le ASEAN chung tel ram hruaitu tampi an i tel hna, a si nain Kawlram aiawh cun a kaimi an um lo, Min Aung Hlaing tel kho ve ding in Tuluk nih cun aa zuam tuk nain ASEAN chungtel ram cheukhat nih an duh bak lo caah a kai kho lo.
Kan hnu lei ah an rak tuahmi ASEAN Summit pi zong ah Lainawng pa Min Aung Hlaing cu an rak tel ter duh ti lo, tutan hi cu Tuluk le ASEAN ton biaruahnak a si ko caah Min Aung Hlaing tel kho ve ding in Tuluk nih cun an zuam sek piak ngai.
A si nain kan hnu lei ASEAN Summit ah Min Aung Hlaing te phu nih an tuah dingmi le an zulh dingmi thil pa 5 an rak chuahmi cu ralhraang pawl nih pakhat te hmanh an tuah duh lo le an zulh duh lo ruangah ASEAN Summit ah tel ter ding hrim hrim in an duh ti hna lo, khat lei in chim ah cun ralhraang pawl nih ASEAN ah hmunhma an nei kho ti lo tinak khi si ko. Crd; Chin 24Seven News
Relchap; Shanram chaklei, Monkoe hmun ah November 21 ah kahdohnak a chuak i ralhrang 20 leng an thi, MNDAA 1 nunnak liam tiah The Kokang thawngzamh nih a thanh.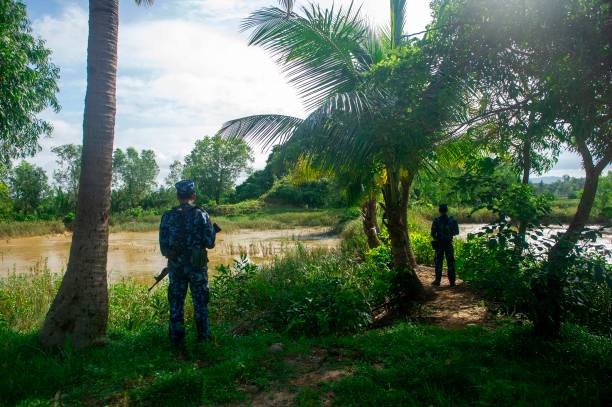 Nizaan ah Ralhrang le Kokang( MNDAA) cu Monkoe hmun ah kahdohnak voi (6) a chuak, Cu kahdohnak ah ralhrang 20 leng an thi i MNDAA in minung 3 an i hliam i pakhat a nunnak liam. Nizaan nikhat chung lawng ah MNDAA riahbuk cu ralhrang nih hriamngan in voi 900 tluk hrawng an kah tiah theih asi.